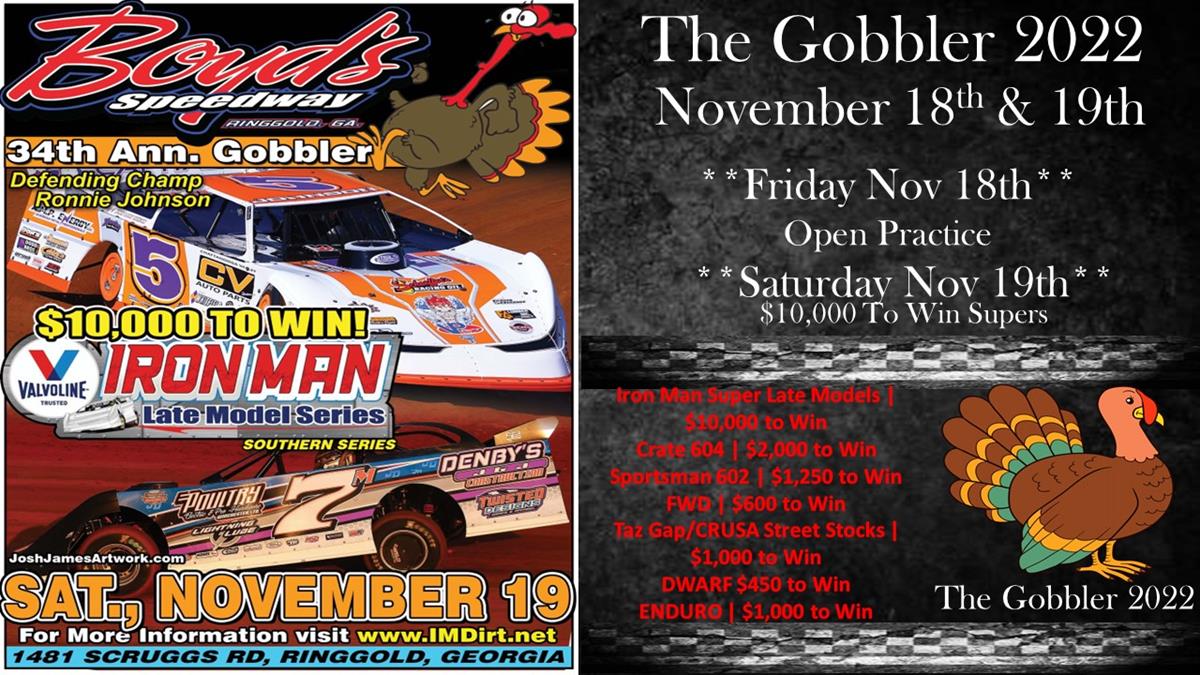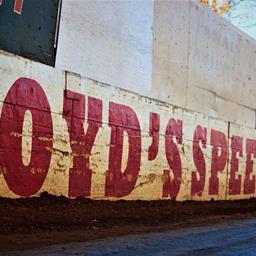 ---
Gobbler 2022 is November 19th
It's a race full of rich history.....
33 years' worth of history with the 1st race in 1989. A race started by legendary Joe Lee Johnson at Cleveland Speedway and later carried on in his honor at Boyd's Speedway. Past winners include Rex Richey, Ronnie Johnson - "The Chattanooga Flash", Dale "Mac Daddy" McDowell, Skip Arp, Jonathan "Superman" Davenport, Chris Madden, Shane Clanton, Riley Hickman, Randy Weaver, Michael Page, Ray Cook, Jake Knowles and many others......
Make your plans now for the 2022 Gobbler! It's going to be the biggest race in its 33 year history...with $10,000 To Win for the Super Late Models...some of the best drivers in the country will be battling it out to see who takes home the checkered flag and the $10,000 check. Last year we had 266 cars.....this year will be even bigger with our biggest total purse in Gobbler History! Over $63,000 in Total Purse Money for this year's Gobbler.
7 Classes including Valvoline Iron-Man Super Late Models, Crate 604, Sportsman 602, Front Wheel Drive, Dwarf Cars, Street Stocks, and Enduro's will battle it out in this year's Gobbler Saturday November 19th.
FRIDAY, NOVEMBER 18, 2022
Friday is an Open Practice for all classes
PRICE (Friday):
General Admission – Practice is free for the Public to watch on Friday
Pit Tickets - $25 for Adults, Children 6-12 $10 and 5 and Under Free
TIMES (Friday November 19th):
Pit Gates Open: 3:00pm
General Admission: 4:30pm
Practice from 5:00pm to 9:00pm
SATURDAY, NOVEMBER 19, 2022
Gobbler 2022 Valvoline Ironman Super Late Models $10,000 TO WIN 40 Laps
PRICE (Saturday):
General Admission Adult - $25
General Admission Children 6-12 - $10, 5 & under – Free
VIP Tickets $60
Pit Tickets Adult - $45
Pit Tickets Children 6-12 - $20, 5 & under – Free
TIMES (Saturday):
Pit Gates Open: 2:00pm
General Admission: 3:30pm
Drivers Meeting: 5:00pm
Hot Laps: 5:15pm
CLASSES RACING (Saturday November 19th):
Valvoline Iron-Man Super Late Models - $10,000 to win 40 Laps
Crate 604 - $2,000 to win
Sportsman 602 - $1,250 to win
FWD - $500 to win
Dwarf - $450 to win
CRUSA/Taz Gap Street Stocks - $1,000 to win
ENDURO - $1,000 to win
---
Submitted By: Larry Dismukes
Back to News