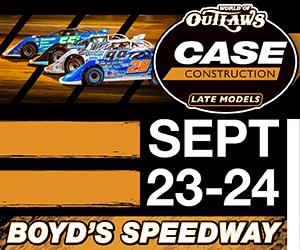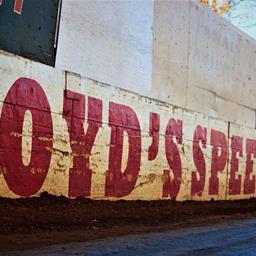 ---
Two Weeks Until The World Of Outlaws invade Boyd's Speedway
The World of Outlaws CASE Construction Equipment Late Model Series will venture to the Tennessee/Georgia line for the Stateline Showdown doubleheader at Boyd's Speedway, Sept. 23-24.
It'll be the Series' debut trip to the 3/8-mile track and second trip to the Peach State in 2022.
The two-day event boasts a $30,000 payday between the two nights with Friday night's race paying $10,000 to win and Saturday's paying $20,000 to win. And it will also play a vital part in the 2022 championship.
There will be five races left after the doubleheader before the championship determining World of Outlaws World Finals weekend at The Dirt Track at Charlotte, Nov. 2-5.
TICKETS: www.worldofoutlaws.com/tix
STATELINE SHOWDOWN – Friday-Saturday, Sept. 23-24
Track: Boyd's Speedway
Location: Ringgold, GA
To Win: $10,000 (Friday), $20,000 (Saturday)
Notables: While the Stateline Showdown will mark the World of Outlaws CASE Late Model Series' debut at Boyd's Speedway, the Series has run more than 10 events on a 3/8-mile track this year.
So far, 2018 Series champion Mike Marlar, of Winfield, TN, has the most wins on a 3/8-mile track this year with three. Not far behind, though, are several big names who will also be on the hunt to be the inaugural Series winners at Boyd's.
Topping that list is Blairsville, GA's Jonathan Davenport with two Series wins on a 3/8-mile track this season, including the prestigious USA Nationals at Cedar Lake Speedway. Joining him with two wins on a 3/8-mile track this year are four-time and defending Series champion Brandon Sheppard, recent DIRTcar Summer Nationals Late Model champion Bobby Pierce and 2022 World of Outlaws Rookie of the Year contender Max Blair.
Along with targeting the win, Blair is in a heated battle with Tanner English for the second spot in championship points and the Rookie of the Year title. While that will rage on at Boyd's Speedway, championship points leader Dennis Erb Jr. will try to continue to try and grow his points leader over the two rookie drivers.
If you can't make it to the track, you can watch all the action live on DIRTVision – either online or by downloading the DIRTVision App.
Back to News