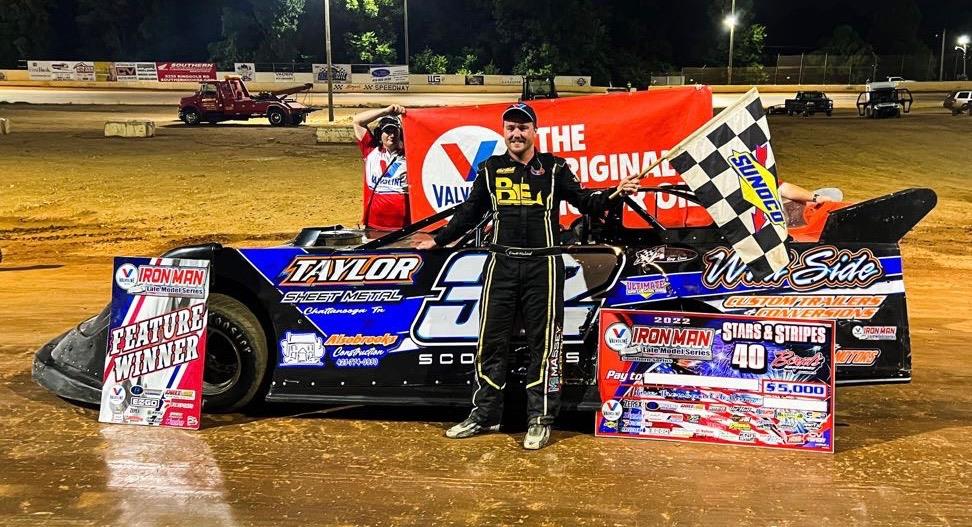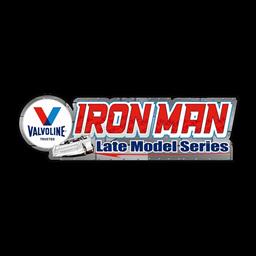 7/1/2022
Iron-Man Late Model Series
---
Donald McIntosh Motors to Stars and Stripes 40 Victory at Boyd's Speedway
RINGGOLD, GEORGIA (July 1, 2022)– The Valvoline Iron-Man Late Model Southern Series would kick off the Independence Day weekend of racing action at Boyd's Speedway in Ringgold, GA with the Stars and Stripes 40 event and Donald McIntosh of Dawsonville, GA would take the lead on a lap fifteen restart and lead the remainder of the way to score the victory in the event and claim a $5,000 payday.
The win for McIntosh would be his fourth career Valvoline Iron-Man Late Model Series victory and would come behind the wheel of the Lamar Scoggins owned Longhorn Chassis powered by a Race Tek Race Engine with sponsorship from Team Auto Inc., Wild Side Trailers, M&S Motors, and Also Brooks Construction.
Sam Seawright and Vic Hill would battle side-by-side for the race lead on the opening lap, with Hill nipping Seawright for the lead on lap one, followed by Donald McIntosh, Brandon Williams, and Robby Mason. Hill would clear Seawright for the lead on lap two and hold a car length advantage until the first caution of the race appeared on lap four for a three-car tangle in turn four involving Stacy Boles, Michael Chilton, and Tommy Taylor, with Boles being done for the event. The restart would see Hill, Seawright, McIntosh, and Williams maintain the top four positions, while Mack McCarter would sneak past Mason for the fifth position. McCarter would then challenge Williams for the fourth spot and would claim it on lap six. Hill would build a comfortable lead by lap ten, but he would catch the rear of the field and start working slower traffic on lap thirteen. The final caution of the event waved on lap fifteen when Chuck Christopher's machine would roll to a stop on the backchute. The restart would see Hill lead the field into turn one, while McIntosh would roll the outside groove to take second from Seawright and would look to the outside of Hill in turn three and would take the lead with a pass of Hill exiting turn four. Hill would now settle into second, with Seawright third. McIntosh would build a 1.5 second lead over Hill and would maintain that advantage until he would have to begin to lap slower traffic on lap twenty-six. Meanwhile, fourteenth place starter Ricky Weiss would have worked his way through the field and would drive past Williams on lap twenty-eight to make his way into the top five runners. McIntosh would tip-toe his way through lapped traffic, with Hill only able to get to within one second of McIntosh during this time. McCarter would run down Seawright and that pair would begin to battle for the third position, with McCarter finally taking third on lap thirty-eight. McIntosh would begin to stretch his lead over Hill in the final few laps of the event and score the win over Hill, with McCarter settling for third. Seawright and Weiss would complete the top five. Twentieth place starting Chilton would recover from the lap three tangle to charge his way back to sixth, with Williams, Eli Beets, Jason Manley, and Mason completing the top ten finishers.
The next events for the Valvoline Iron-Man Late Model Southern Series will be at Lake Cumberland Speedway in Burnside, KY on Saturday July 2 for the 3rd Annual Hall of Fame Classic paying $5,000 to win and Tazewell Speedway in Tazewell, TN on Sunday July 3 for the Firecracker 40 paying $5,000 to win.
For more information about the Valvoline Iron-Man Late Model Series, please contact Chris Tilley at (828) 361-5981 or visit the tour's webpage at www.IMDIRT.net or visit the tour page Iron-Man Racing Series on Facebook and Iron-Man Series (@CTPROMOTE) on Twitter.
The Valvoline Iron-Man Late Model Southern Series would like to thank the following sponsors and marketing partners for their support of the 2022 racing season: Valvoline, Zerex by Valvoline, Brucebilt Performance Parts, Hoosier Racing Tire, E-Z-GO, Sunoco Race Fuels, Bazell Race Fuels, DirtonDirt.com, MyRacePass, FloRacing, Impact Race Gear, XS Power Batteries, Vic Hill Racing Engines, American Racer Tires, Keltner Contracting, TW Taylor Trucking, Earnhardt Technologies Group, Swafford Signs, KY Clutch, Brown Haven Homes, Knowles Race Parts and Bodies, Coosa Heating and Cooling, SFP Performance Systems, KND Safety, Chattanooga Valley Auto Parts, Race Clean, Denby's J&J Construction, Advanced Transportation, Lowe's Tows, Reno's Roadhouse, and Racetrack Safety Initiative.
About Valvoline™
Valvoline Inc. (NYSE: VVV) is a leading worldwide marketer and supplier of premium branded lubricants and automotive services, with sales in more than 140 countries. Established in 1866, the company's heritage spans more than 150 years, during which time it has developed powerful brand recognition across multiple product and service channels. Valvoline ranks as the No. 3 passenger car motor oil brand in the DIY market by volume. It operates and franchises approximately 1,400 quick-lube locations, and it is the No. 2 chain by number of stores in the United States under the Valvoline Instant Oil ChangeSM brand and the No. 3 chain by number of stores in Canada under the Valvoline Great Canadian Oil Change brand. It also markets Valvoline lubricants and automotive chemicals, including the Valvoline High Mileage with MaxLife technology motor oil for engines over 75,000 miles; Valvoline Advanced Full Synthetic motor oil; Valvoline Premium Blue™ heavy-duty motor oil; Valvoline Multi-Vehicle Automatic Transmission Fluid; and Zerex™ antifreeze. To learn more, visit www.valvoline.com.
Official Summary of Results
Feature Results for Valvoline Iron-Man Late Model Southern Series Stars and Stripes 40 at Boyd's Speedway in Ringgold, GA on Friday July 1, 2022
Donald McIntosh-Dawsonville, Ga.
Vic Hill-Mosheim, Tenn.
Mack McCarter-Gatlinburg, Tenn.
Sam Seawright-Fort Payne, Ala.
Ricky Weiss-Headingly, Manitoba CAN
Michael Chilton-Salvisa, Ky.
Brandon Williams-Crossville, Tenn.
Eli Beets-Knoxville, Tenn.
Jason Manley-Loudon, Tenn.
Robby Mason-Hixson, Tenn.
Will Roland-Jasper, Ga.
Tod Hernandez-Rossville, Ga.
Dalton Cook-Salem, Ala.
Dillon Tidmore-Gadsden, Ala.
Heath Hindman-Signal Mountain, Tenn.
Jason Croft-Woodstock, Ga.
J.T. Seawright-Fort Payne, Ala.
Tim Thornton-Lafayette, Ga.
Tommy Taylor-Lascassas, Tenn.
Justin Cameron-Harrison, Tenn.
Clayton Cooper-Sevierville, Tenn.
Hayden Ownbey-Cleveland, Tenn.
Carden Cochran-Ringgold, Ga.
Chuck Christopher-Soddy Daisy, Tenn.
Stacy Boles-Clinton, Tenn.
Canon Cochran-Ringgold, Ga.
Time of Race: 19 minutes, 24 seconds
Margin of Victory: 2.331 seconds
Yellow Flags: Two (lap 4, 15)
Red Flags: None
Lap Leaders: Vic Hill 1-14, Donald McIntosh 15-40
Entries: 26
E-Z-GO Time Trials Top Qualifier: Vic Hill (Group B) 15.088 seconds
SFP Performance Systems Hard Charger Award ($100 product certificate): Michael Chilton (started 20th-finished 6th-advanced 14 positions)
Provisionals: None
2022 Valvoline Iron-Man Late Model Southern Series Schedule/Results:
January 29-Boyd's Speedway-Ringgold, GA- SAM SEAWRIGHT (non-points)
March 5-Smoky Mountain Speedway-Maryville, TN-BRANDON OVERTON
March 25-Bristol Motor Speedway-Bristol, TN-CHRIS MADDEN
March 26-Bristol Motor Speedway-Bristol, TN-CHRIS FERGUSON
April 1-Bristol Motor Speedway-Bristol, TN-CHRIS MADDEN
April 2-Bristol Motor Speedway-Bristol, TN-DALE McDOWELL
April 15-Ponderosa Speedway-Junction City, KY-CORY HEDGECOCK
April 16-Tazewell Speedway-Tazewell, TN-CHRIS MADDEN
April 30-Boyd's Speedway-Ringgold, GA-PAYTON FREEMAN (non-points)
May 14-Lake Cumberland Speedway-Burnside, KY-ELI BEETS
May 29-Lake Cumberland Speedway-Burnside, KY-ELI BEETS
May 30-411 Motor Speedway-Seymour, TN-JIMMY OWENS
June 3-Ponderosa Speedway-Junction City, KY-ELI BEETS
June 4-Mountain View Raceway-Spring City, TN-JADON FRAME
July 1-Boyd's Speedway-Ringgold, GA-DONALD McINTOSH
July 2-Lake Cumberland Speedway-Burnside, KY-$5,000 to win
July 3-Tazewell Speedway-Tazewell, TN-$5,000 to win
July 8-Ponderosa Speedway-Junction City, KY-$10,000 to win
August 5-Ponderosa Speedway-Junction City, KY-$10,000 to win
August 6-Brownstown Speedway-Brownstown, IN-$10,000 to win
August 11-North Alabama Speedway-Tuscumbia, AL-$5,000 to win
August 12-Duck River Raceway Park-Lewisburg, TN-$5,000 to win
August 13-Talladega Short Track-Eastaboga, AL-$10,000 to win
August 27-Lake Cumberland Speedway-Burnside, KY-$10,022 to win
September 3-Boyd's Speedway-Ringgold, GA-$5,000 to win
September 4-Tazewell Speedway-Tazewell, TN-$5,044 to win
October 1-Lake Cumberland Speedway-Burnside, KY-$10,000 to win
October 7-North Wilkesboro Speedway-North Wilkesboro, NC-$5,000 to win
October 8-North Wilkesboro Speedway-North Wilkesboro, NC-$10,000 to win
October 22-I-75 Raceway-Sweetwater, TN-$10,000 to-win
November 4, 5-Duck River Raceway Park-Lewisburg, TN-$20,000 to win
November 19-Boyd's Speedway-Ringgold, GA-$5,000 to win
November 26-411 Motor Speedway-Seymour, TN-$5,000 to win
Back to News