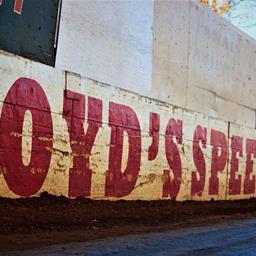 ---
OWENS TAKES LATE MODEL VICTORY FRIDAY NIGHT AT BOYD'S SPEEDWAY
Chattanooga/Ringgold (6/24/22) --- Newlywed Justin Owens of Rossville laid claim to the Late Model feature Friday night at Boyd's Speedway. Lining up against two-time Dirt Track World Champion Ronnie Johnson, Owens in the Josh Davidson owned # 26 "SFP Performance Systems, A.M.P Energy, Hernandez Mechanical, Parker Store, KC Graphics" Longhorn, held off Justin Cameron of Harrison and Andy Pickelsimer of Ooltewah for the $1,200 payday. Tod Hernandez and Late Model Chase points leader Robby Mason rounded out the top five. Super Late Models will invade Boyd's Speedway next Friday night (July 1st) celebrating Independence Weekend with a $5,000 to win showdown.
Ethan Hunter of Harrison extended his points lead in the 604/Crate Late Model division. Logan Palmer and Tim Clark rounded out the podium finishers. Booger Brooks (# WON48) of Chattanooga "won" the 602/Sportsman feature, extending his points lead in the division. Dylan Perry and Hayden Sweeney finished second and third respectfully. Drew Hickman of Ooltewah won Beginner Sportsman a
nd Michael Courtney of Powell won the Circle K Pony feature worth $1,000. In FWD Jack Gresham of Decatur was victorious. Boydsspeedway.com has further information.
---
Article Credit: Steve Hixon
Back to News